Bambino International Montessori School Peyad - Thiruvananthapuram
Thursday, 12 May 2022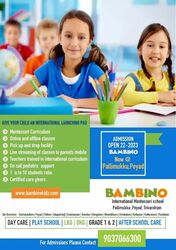 Item details
City:
Thiruvananthapuram, Kerala
Contacts

Bambino International Montessori School Peyad

9037066300
Item description
As a Montessori preschool integrated with daycare, Bambino provides high quality child care that has a positive influence on the holistic development of the child through valuable educational and social experiences. Bambino has uniquely blended the Montessori Methodology with the syllabus of CBSE/ISSE and State Boards. We are an advocate of Montessori methodology.